Overview
Bob's Woods is a beautiful wooded area on St. Bonaventure University's campus named in memory of the late Fr. Bob Stewart. An overview of work activities, the Dedication Ceremony videos, and more great pictures can be found on the BonaResponds blog.
Father Bob died in 2001 after a fight with cancer, leaving behind his beloved legacy. Besides being an Italian language professor at St. Bonaventure, Father Bob is remembered both for the great friendships he forged and his pleasure of athletic activities.
Videos of Dedication Ceremony
A Beautiful Retreat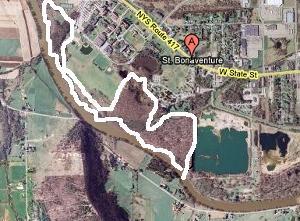 Bob's Woods is a peaceful place to walk, run, or bike. We plan to make up a map and some trailhead markers as part of upcoming local service days. Come out and enjoy this quiet and relaxing natural space. The "M" shaped section of woods below the campus marker (A) and the Allegheny River in the image above is Bob's Woods location. An easy-to-find entrance is located at the pond just to the left of the "driveway" near the softball field.